Getting to Know FISCHER USA's Customer Service Team: Paul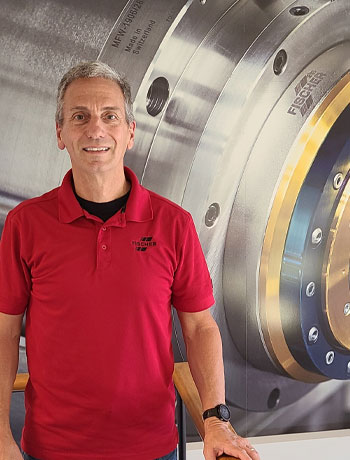 Name: Paul Frederickson
Job Title: Sales Application Engineer
How long have you worked for FISCHER USA? What areas have you worked in?
34 years, will be 35 in March 2022, and I started when it was Precise Corp. Have always been in sales department & application engineering, but customers and our products change to keep it interesting.
What's your favorite thing about working for FISCHER USA?
I enjoy helping customers solve their service issues with a product or find a solution to achieve a goal (machine or grind a specific part), especially when they get back to you and say thanks.
If you could write your own job title that best describes what you do here, what would it be?
Senior Problem Solver, combining my gray hair with problem solving.
What's your favorite part of the spindle?
Wow, never thought about that. The shaft and rotating components, because we manufacture those here and don't outsource those details. Hundreds of hours (sometimes) go into manufacturing these with tight tolerances for accuracy, that's where the magic is.
What advice would you give a candidate who wants to join your team of superstars?
A. Have to be a people person. You can't be a total introvert. We like people with a technical background, but that aren't happy just sitting behind a computer all day focused on inanimate objects. Enjoy some customer interaction,and have a thick skin for the not so pleasant moments. Be able to channel that into something positive, and not let it ruin your day when things go wrong.
B. Be positive most of the time, customers need good news as they are looking for solutions. Have a sales mentality to help the customer see the benefits of a FISCHER USA partnership.
C. Have to like the Packers, but we let Doug (VP, Sales & Marketing) slide in since he is our boss.
Who is someone you admire, and why?
One of my Hobbies is endurance running. So, I look to endurance athletes as role models, as they have focus, and drive to make it through. Same attitude applies for work, be consistent, learn and get better each day by listening, and learning to achieve the goal, which is satisfying your customer.
What are your tips for being successful?
Keeping an open mind, always be open to new ideas without forgetting your guiding (core) principles, don't rush through and skimp on quality.
Listen to your customers and view it from their side, they have bosses and things that they need to do too. Try to work with them to achieve a goal, without sacrificing your core qualities.
Try to learn and get better everyday, learn more about customers, products, and solve new problems. Popular things are always changing; change, learn, and grow as needed. We don't live in a bubble, things don't stay static.
The most important thing I have learned since high school is…
Patience and dedication - stick-to-it-tiveness, Rome wasn't built in a day, it takes time to achieve a goal. It can be frustrating to not hit your goal right away, but keep at it; be patient. Most people are like you and struggling too, so keep trying.
How do you want people to remember you?
Someone who always wants to and is willing to help, even if he doesn't have the answer at hand, but will try to get it. Respects people and gets back to them in a timely fashion. Overall a generally good person.
Do you have any skills or talents that most people don't know about?
I'm a drummer, I love music. Played in my university jazz ensemble, but I left and focused on the engineering. I kept it as a hobby and have played at Summerfest multiple times.
What are your top 3 favorite books/podcasts?
The Bible, Running podcasts, Steven Hawking: A Brief History of Time – I'm fascinated by "new things", concepts that are beyond my grasp, and open my eyes a little bit.
What is top on your bucket list?
I don't do a lot of planning, but in 5-10 years I will probably retire so then my goal is to make for a successful, enjoyable and fruitful retirement, stay active and productive. I would like to visit Europe with my wife, especially southern Italy, where her grandfather is from.
Flashback to when you were 5 years old, what do you want to be when you grow up?
Football player, but that didn't pan out. From 5-12 everything was football, it was all I did. After 12, drummer.
If you had a choice between two superpowers, being invisible or flying, which would you choose?
I think flying, because it seems a little more positive. Being invisible may get you into trouble; it seems nefarious. I always tried to imagine what flying would be like. I like running and biking fast, so flying would be the next thing.
Finish this sentence. On Sunday mornings, you can usually find me...
At church.