Getting to Know FISCHER USA's Customer Service Team: Ryan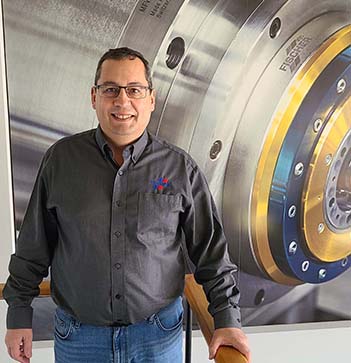 Name: Ryan Brath
Job Title: Managing Director
How long have you worked for FISCHER USA? 
31 years in February
What areas have you worked in? 
Almost everything, started as a design engineering, manufacturing, assembly, inspection, ran some machines, spindle & dynamometer testing, involved in sales, accounting, and personnel.
What's your favorite thing about working for FISCHER USA?
Family-oriented company and a team that has fun, but works hard at the same time. High-tech products are involved in every part of manufacturing.  Every day is like an episode of "How things are made".
If you could write your own job title that best describes what you do here, what would it be?
Jack of All Trades. As Managing Director in a small company, you get to be involved in all aspects of the business.
What do you enjoy about the work you do?
The people and the products.  It's really a combination of high-end products attracting specialists working on and with the products.  This business brings together special people building special teams getting it done.
What's your favorite part of the spindle?
It's got to be the precision.  Without precision, you can't get Perfect Rotation. Perfect Rotation in speed, power, and precision is dependent on precision in design and integration of technology.
What advice would you give a candidate who wants to join our team of superstars?
Come in willing to learn. Know that every day is going to be different.  Customer needs are ever-changing.  Being part of a flexible team to solve customer needs is the reward.
Who is someone you admire, and why?
The women in my life.  My wife, amazing in everything she does.  Mother, daughter, sister, wife, she does it all.  My mother, never a bad word about anyone and was able to smile and laugh no matter the current circumstances.  My daughters, supporting each other and growing into amazing women.  My sisters, always willing to keep me humble.  
What are your tips for being successful?
Don't worry about who gets credit & rely on the team around you.
The most important thing I learned (in or since) high school is…
Don't sweat the little things. Every day is a gift. Keep your head up and keep smiling. This business has a lot of challenges, it's very technical, so just worry about what's in front of you and things will generally work out for the best.
How do you want people to remember you?
Hardworking individual who cares about and puts the team first.
Do you have any skills or talents that most people don't know about?
I grew up on a dairy farm, so I know about dairy cattle and all farm animals.  I make sausage with my father in his home butcher shop. 
What are your top 3 favorite books/podcasts?
No podcasts. The Goal – One of my favorites, been a while since I read it. Business books, when I have a need to learn something.  Not really an avid reader aside from my morning devotional.
What is top on your bucket list?
Don't really have a bucket list.  I try to enjoy every day. Enjoy traveling and spending time with family. Enjoy the journey.
Flashback to when you were 5 years old, what do you want to be when you grow up?
Dairy Farmer, until I was 16 or 17 that is what I expect to do.  My high school yearbook has me listed as most likely to be a farmer. 
If you had a choice between two superpowers, being invisible or flying, which would you choose?
Invisible, because I already fly all the time for work.
Finish this sentence. On Sunday mornings, you can usually find me...
At church