Getting to Know FISCHER USA's Customer Service Team: Zak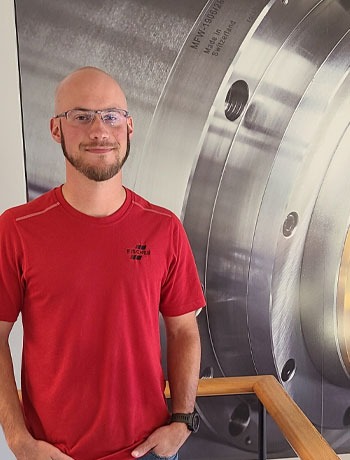 Name: Zak Kaminski
Job Title: Technical Customer Service
How long have you worked for FISCHER USA? What areas have you worked in?
11 years total. I started cleaning parts then moved to disassembly and assembly department and then moved to Technical Customer Service for the past 8 years.
What's your favorite thing about working for FISCHER USA?
Traveling and solving technical issues/problems all over the United States, Canada and Mexico, and getting to go to training in Switzerland (our parent company location).
What's your favorite part of the spindle?
I deal a lot with the electrical systems and the big part of that is the motor. It is incredible the amount of power we can generate from such a small package.
What advice would you give a candidate who wants to join our team of superstars?
Enjoy the challenge that comes along with solving technical issues. Our customers really like us, so it is easy to help them as they trust us and know we are here to help.
Who is someone you admire, and why?
Tiger Woods for his dedication to his craft and what he does (golf).
What are your tips for being successful?
Try to enjoy what you do, even if you have to dig. Embrace the challenge and enjoy it.
The most important thing I learned since high school is…
Be on time, and never stop learning. 
How do you want people to remember you?
Someone who would listen and care.
What are your favorite books?
Jack London novels: Call of the Wild, White Fang, The Iron Heel
What is top on your bucket list?
Visit all 50 states, and now I only have 3 left (having just returned from a vacation to Alaska): Hawaii, Louisiana, and Rhode Island.
Flashback to when you were 5 years old, what do you want to be when you grow up?
Adventurer with a lot of traveling. I was always outside, and still want to be as much as possible. 
If you had a choice between two superpowers, being invisible or flying, which would you choose?
Flying, being able to have a bird's eye view. 
Finish this sentence. On Sunday mornings, you can usually find me...
Cooking bacon or on the golf course.