Getting to Know FISCHER USA's Team: Jim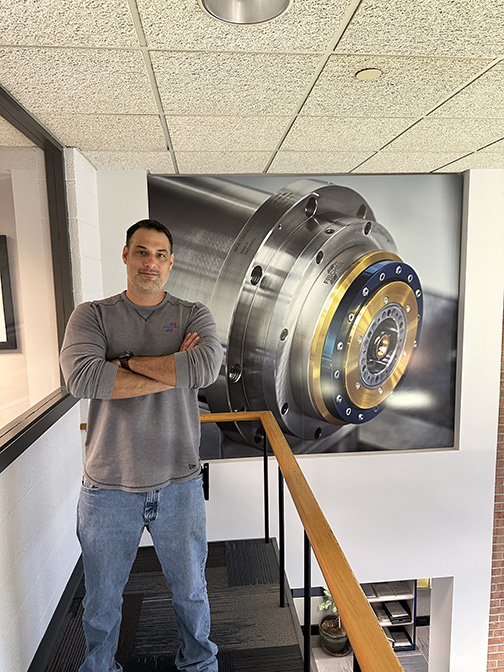 Name: Jim Bednarek
Job Title: Machine Shop Supervisor
How long have you worked for FISCHER USA?What areas have you worked in?
Originally I wanted to be a firefighter, which led me to the Naval Academy. I was there (in California) from 2000-2005. While there I worked on ships, machining, and shaft repair. I came back to my family in Wisconsin and spent a number of years in management and manufacturing. After being in the industry for many years and pursuing different opportunities, I came across FISCHER USA. I got to meet with Ryan (President of FISCHER USA) and fell in love with the company. I was offered the job, and it's been awesome to see things come full circle with my experience at the Naval Academy. I've been here for 4 months as of February of 2023. I've worked exclusively as Machine Shop Supervisor.
What's your favorite thing about working for FISCHER USA? 
Many companies say they have a family atmosphere, but FISCHER USA really lives that out and does what they talk about. The people at FISCHER USA all respect each other, care for one another, and work together with the same mission in mind of serving our customers.
If you could write your own job title that best describes what you do here, what would it be?
The Wisconsin Weatherman! There is always an idea for how the day should go, but FISCHER USA is such a customer focused company that no matter how much forecasting happens, things may change and we've got to adapt to the weather.
What do you enjoy about the work you do?
I really enjoy building up our team, and learning and growing with people along the way. I enjoy being apart of the positive gains that we make together as a team.
What's your favorite part of the spindle?
The gold ring! It is the 'signature' part of the spindle.
What advice would you give a candidate who wants to join our team of superstars?
We make a lot of changes on the floor, so people have to be flexible. The changes have to happen and priorities are shifting so that has to be understood. I would also say you have to come in as a team player. Even if you are introverted, you have to find a way to work together with and connect with the team to achieve the greater goal.
Who is someone you admire, and why?
My wife. It's amazing how she is able to bring our whole family together and make everything click. If I'm ever worried about different details, she takes care of them before I even ask. She has got it covered! She is a 5th grade teacher, and I really admire everything she is and is able to do!
What are your tips for being successful?
Hard work, because you get out what you put in. We all make mistakes, but to be successful we have to learn from the mistakes we do make. I think you also have to be able to take constructive criticism, because if you do that, it will make you better.
The most important thing I learned (in or since) high school is…
People are your most important asset. Machines will usually work how they are supposed to, but things won't work when the people are unhappy. Relationships are so important.
How do you want people to remember you?
I want people to remember me as an honest person. It can be difficult to navigate at times in the workplace, but it allows us to identify an issue and fix it. I also want to be remembered as compassionate, and to treat people fairly
Do you have any skills or talents that most people don't know about?
My dad was a musician so there were always instruments around the house. I started playing more when I was in my 20's. I have guitars, basses, and a drum set at home. I also really enjoy snowboarding – or really anything outdoors (hunting, fishing, etc.)
What are your top 3 favorite books/podcasts?
Hot Zone by Richard Preston; Tales from Margaritaville by Warren Buffet; One Door Way From Heaven by Dean Koontz
What is top on your bucket list?
I want to hike Havasu Falls in Arizona!
Flashback to when you were 5 years old, what do you want to be when you grow up?
I wanted to be firefighter.
If you had a choice between two superpowers, being invisible or flying, which would you choose?
Flying, of course!
Finish this sentence. On Sunday mornings, you can usually find me...
Getting together and relaxing with my family is one of my favorite things to do! I have 6 kids all together. The oldest is 22, and the youngest is 9.