Getting to Know FISCHER USA's Team: Holly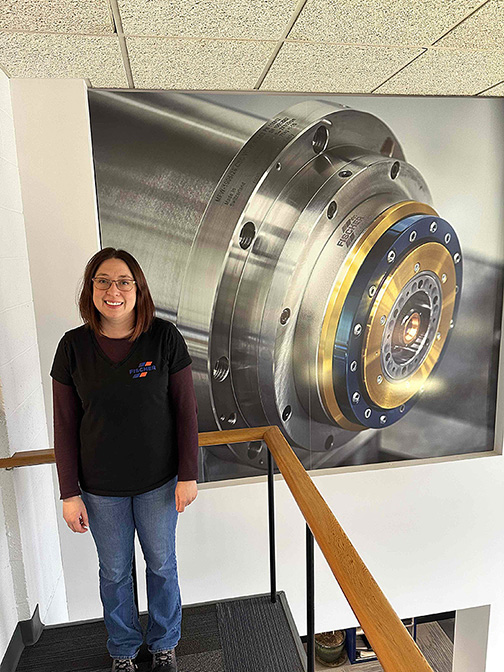 Name: Holly Howen
Job Title: Quality Technician
1. How long have you worked for FISCHER USA?What areas have you worked in? I've worked for FISCHER USA the last five months in the Quality department as a Quality Technician.
2. What's your favorite thing about working for FISCHER USA? The environment is family-friendly!
3. If you could write your own job title that best describes what you do here, what would it be?
As a Quality Technician, my day generally consists of inspections and troubleshooting for spindles.
4. What do you enjoy about the work you do?
Every day at FISCHER USA seems to be a new adventure. Each day is different!
5. What's your favorite part of the spindle?
My favorite part of the spindle is when it's fully assembled and ready for delivery because the 'customer is king!'
6. What advice would you give a candidate who wants to join our team of superstars?
Never be afraid to ask a question.
7. Who is someone you admire, and why?
I admire my aunt for all her strength, through out the hard times she has always been a rock.
8. What are your tips for being successful?
Give it your best, continue learning, and try to better yourself every day.
9. The most important thing I learned (in or since) highschool is...
Nothing is what you expect, really.
10. How do you want people to remember you?
I'd like to be remembered as a friendly person full of knowledge, and as someone who's always willing to help people.
11. Do you have any skills or talents that most people don't know about?
I enjoy making jewelry, and I've actually made jewelry for weddings.
12.What are your top 3 favorite books/podcasts?
To be honest, I don't have a lot of spare time to read.
13. What is top on your bucket list?
I'd like to finish my engineering degree.
14. Flashback to when you were 5 years old, what do you want to be when you grow up?
When I was 5, I wanted to be a veterinarian and work with animals.
15. If you had a choice between two superpowers, being invisible or flying, which would you choose? 
I'd choose invisibility.
16. Finish this sentence. On Sunday mornings, you can usually find me...
...drinking coffee and snuggling up with my dog and cat on the couch!