Quality Control/Inspections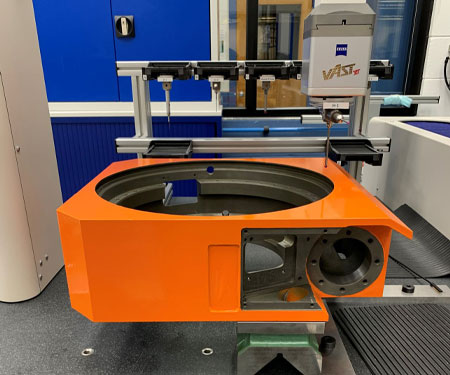 Within the FISCHER USA culture, quality is a key pillar in everything we do, whether it be in the manufacturing of brand new spindles or the repairing of old ones. The tools that we use also need to stand up to our pillar of quality.
When doing a recent refurbishing, we needed to measure the bore of a large milling head. This is where our Zeiss CMM (Coordinate Measuring Machine) came in handy. Our team knows that the measurements when using this tool will be of the highest accuracy, which is important for quality assurance. The Zeiss CMM machine that we use has a precise probe system, and all systems can be tailored to FISCHER USA's exact requirements, which is important when refurbishing parts that need to be repaired to exact specifications.
When you choose to trust FISCHER USA with your spindle needs, you are getting over 80 years of experience in producing high precision spindles. Our team is local and has Best In Class customer support, as well as around the clock access to our team of customer focused individuals.
Our facilities offer precision manufacturing, reverse engineering, and the capabilities for full inspection. We will fully test and inspect your spindle to ensure that it operates just as it will once it is installed in your machine.
If you have any questions or need spindle repairs, please contact us today!